Selling Your House Through an Estate Agent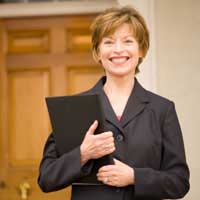 The first thing most people do when they are thinking of selling their home is to contact a local estate agent. Conducting a sale in this way may eliminate many of the worries and hassles that come with selling but prospective vendors should familiarise themselves with the process before entering into an agreement with an estate agent.
Choosing an Estate Agent
Estate agents are not regulated and there are many different agents out there – big and small, good and bad. Just because an estate agent is well known it does not necessarily mean that they will provide a good service. A small, local company may have a better understanding of the market in a particular area. A large, national estate agent may run a more efficient service and have more staff.
Estate agents who belong to the National Association of Estate Agents are bound by a code of conduct.
Anyone considering engaging an estate agent should find out exactly what services the agent will provide before signing any agreements:
How and where will they market the property?
How will viewings be conducted?
How many similar properties has the agent sold in the area in the last few months – and at what price?
Word of mouth is always a good way of choosing an estate agent.
Getting Valuations
Most people obtain one or more valuations for their home before deciding whether to put the property on the market. Estate agents should offer this service for free – in effect all they have to do is come to the property, have a look around and then say what price they think it should be marketed at.
Homeowners can get a good idea of what their house is worth by using any number of websites, including the Land Registry site. Sites may give the average house prices for an area or the actual prices for which specific local properties have been sold.
Choosing the estate agent who gives the highest valuation is not necessarily the best idea. The estate agent may have inflated the asking price to impress the owner. If the price is too high prospective purchasers might be put off.
How Much it Costs to Sell Through an Estate Agent
The cost of using an estate agent to sell a home usually depends on:
the price of the property - with the fee often being a percentage of this; and,
whether the estate agent has a sole agency deal.
If a seller enters a sole agency deal with an estate agent but then finds a buyer elsewhere they could potentially still have to pay a fee to the estate agent. Multiple agency deals usually attract higher fees but may result in a quicker sale.
Entering into a Contract with an Estate Agent
If a vendor decides to use an estate agent they will have to enter into a binding contract which sets out, amongst other things, the level of fees, whether the agreement is for sole agency and how long the vendor has to stay with the estate agent. All of these factors should be negotiable. Sellers should ensure that they know exactly which services are included (or not) in the fee before signing the contract.
Sellers should be wary of contracts that oblige them to pay a fee if they decide to withdraw the property from the market or which tie them to the estate agent for a lengthy period.
Viewings
The estate agent may offer advice on how best to present the property before prospective purchasers come to see it. Most estate agents will conduct the viewings themselves so that the homeowner need not be present when they take place.
Some estate agents conduct an "open house" policy where more than one prospective buyer is shown the property at the same time. In theory this makes people viewing the house feel like there is competition for the property and encourages them to make an offer.
Using Estate Agents for Other Services
Some estate agents offer a range of other services – for example mortgages and conveyancing. Whilst the idea of having everything dealt with under one roof may be attractive, it will not necessarily ensure the best service or price. Alternatively the estate agent may recommend another company who provides the services. The estate agent may receive a commission for passing on business to the other company and therefore have a vested interest in making the recommendation.
You might also like...