Repossession and Buy-to-let Properties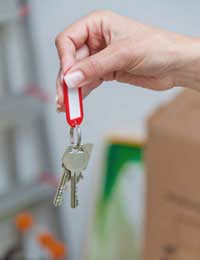 Buy-to-let properties have been amongst those most at risk of repossession following the financial crisis of late 2008. The early to mid 2000s saw a substantial increase in the number of people entering the buy-to-let market as landlords. This increase may have been fuelled by both the popularity of television programmes about property investment and the availability of affordable mortgages. Many people with no prior experience as landlords decided to take the plunge and buy an investment property.
How Buy-to-Let May Lead to Repossession
Owning an investment property can be a good source of income. So long as the rent keeps coming in - and covers the mortgage - the landlord may have little to worry about. However, many "amateur" landlords discovered that not much has to go wrong before they face the threat of repossession.
Landlords may face two common problems:
the tenants stop paying the rent or they move out and new tenants cannot be found;
the need to pay for unexpected repairs to the tenanted property.
Professional landlords have traditionally managed their property portfolio in such a way to ensure that a loss of income, or required expenditure, on one property can be covered by income from other properties - or by a back-up fund maintained for such eventualities.
Many of the new landlords failed to have a contingency plan in place to cover unexpected expenditure or a drop in income. Therefore, financial difficulties could build up in a very short period of time.
Buy-to-Let Mortgage Lenders and Repossession
Financial difficulties may be compounded by the approach taken by some buy-to-let mortgage lenders when mortgage arrears build up.
A mortgage company which has leant money to fund the purchase of a borrower's home may be sympathetic when circumstances cause a borrower to get into mortgage arrears. Further, the mortgage lender has a positive duty to help that borrower address the problem. However, where money has been leant on what is effectively a commercial enterprise, the lender may not be prepared to listen to excuses and may be much quicker to initiate repossession proceedings once a borrower gets into mortgage arrears.
The Courts' Approach to Buy-to-Let Repossessions
Some courts may also take a stricter approach to repossession cases involving buy-to-let properties. Judges may expect the arrears to be cleared more quickly than they would on a borrower's home. The borrower may be required to make a contribution towards the arrears over and above what they receive in rent. However, this is not a fixed rule and borrowers should always explain why the arrears built up and what efforts they are taking to clear them.
Repossession of a Landlord's Home
Landlords may get into difficulties with the mortgage on their own home when more money has to be channelled towards their buy-to-let property. They may feel forced to do this if the lender on the buy-to-let mortgage rushes to start a repossession case as soon as arrears begin to build up on the property. The borrower may end up facing two sets of repossession proceedings – one in respect of their home and one in respect of the buy-to-let property.
Where a judge hears a repossession case in respect of a buy-to-let landlord's home they may be less sympathetic than they would to other borrowers. Someone who owns more than one property simply does not appear to be in such a desperate state – even if both properties may be repossessed. This could potentially result in a judge taking a strict approach to the repossession case for the landlord's home.
Repossession of Tenanted Properties
In some cases where arrears have built up on a buy-to-let property, the lender may appoint receivers to administer the property and accept any rents being paid. These receivers will try to find out whether there are any legitimate tenants in the property. If there are no legitimate tenants, a repossession case against trespassers may be started.
Where a borrower has used an ordinary residential mortgage to fund the purchase of a buy-to-let property this will not apply. Any tenants placed in the property by the borrower will almost certainly be unauthorised. Subject to receiving due notice of the repossession proceedings and eviction from the mortgage lender, unauthorised tenants are likely to have little or no right to stay in the property. However, unauthorised tenants may well have a valid contractual agreement with their landlord. These tenants could decide to take separate legal action against their landlord to recover rent they have paid to him or for damages to compensate for the loss of their home.
You might also like...
i put in my entire savings and inheritance into 3 buy to lets 17yrs ago being self employed and on off benefits various jobs and was taken up by the notorious mortgage express they did these non status self certified no questions asked deals they were quick to take up all my money to generate interest only high payments ,used my name on title deeds and the land registry using my name on the 3 properties concerned it was so difficult continuous exploitation from bad tenants,freeholders , con artist solicitors cheating left right centre to cash in at my expense and cunning estate agents, all taking advantage,,,,in the end i generated 270k but the mortgage express quickly illegally reposed and auctioned foe bellow market value the properties then sold them off for the real price and swindled my money i have had no sympathy from the courts as i have had to fight to recover my funds as i cannot afford a solicitor doing this myself....don't do it...it was a scam and today at 50 i am broke
ruru
- 28-Jan-21 @ 7:32 PM
Hi, since the government banned evictions on retal properties I have not received any rent from my buy to lets and I am unable to start evictions until 31st August. The mortgage holiday helped but I have low mortgage repayments and good equity in all the properties. The tenants are all sitting pretty and are still refusing to pay any rent and I'm faced with expensive court costs. My question primarily is can my main family home be repossessed as well as the buy to lets should the bank decide to repossess due to arrears on the buy to lets? I have lots of equity in my main family home which I could raise funds from but I feel that this would only add to the problemis there anyway of protecting my main home from repossion due to tge failing buy to lets. Kind regards pat.
pat
- 12-Aug-20 @ 5:48 AM
I have 3 buy to let properties and have never had them all rented at the same time. I have experienced a property with no rent for over a year another with arrears of £3000 and one only one property that has paid on a regular basis for the last 3 years!. I have never made any profit from these rentals and have documented evidence of the thousands I have paid out and never recouperated. I am now working part time in a rental property no assets and fighting to pay my own rent each month. Im lost. in ill health manically depressed riddled with arthritis and fibre myalgia. So much to cope with I don't know if life is worth living !
susieq
- 25-Jul-17 @ 10:47 PM
I currently have a Buy to let property. The payments have been erratic last year I suffered 3rd degree burns and was critical for a month. Now unemployed because of injuriesProperty vacant from October to December needed 2.500 spending on it to relent.Got into arrears received a letter unregistered on Sat 21/01/17 saying if I didn'the pay arrears by 23/01/17 the £168.000 mortgage would have to paid in full. Rang them got cut off and they said this morning has to be paid by tomorrow£422.17p arrears. I said I'didn't pay it by Friday. They said no. Please help. Sick of fighting so many loosing battled.
Maureen
- 23-Jan-17 @ 11:05 AM
I have sub-let a council flat with authorization for a period of time. Now the time is lapsed and he doesn't want move out. Can I take legal action or have him evicted or removed?
tino
- 22-Apr-11 @ 12:49 AM