Landlord Hasn't Paid Mortgage, What Happens Now?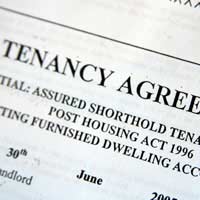 Q.
I am a tenant and have had a letter informing me that my Landlord is being taken to court at the beginning of December, by his bank, which I assume means that he has not been paying the mortgage. Are there any precautions or steps that I should now take - should we keep paying our rent right up until the court proceedings?
Also, is there any way of me finding out what type of mortgage he has - i.e. if it is buy to let or not?
I am really suprised that having rented the flat through an estate agent that this situation has occured. Is there nothing to protect potential tenants?
As far as I am aware we had no way of knowing that the landlord was in this situation, which seeing as we have only been in the flat 5 weeks, I assume began before we signed contracts? Should we have been informed of this situation, either by the Landlord or the Estate Agent?
(Miss Florence Herbert, 30 November 2008)

A.
Among the most blameless victims of the current economic climate are the growing numbers of tenants whose landlords have fallen behind with their mortgage payments. In recent years more and more people tried to profit from the apparently endless property boom by buying properties to let. First-time landlords soon discovered that letting property did not necessarily mean easy money. With mortgage payments going up and rents beginning to go down many tenanted properties have been repossessed.
The letter you received is probably the "Notice to Occupiers" that all lenders must send to a property before a mortgage possession court hearing. This will usually be the only warning a tenant receives that anything is wrong. The usual advice to a tenant in this situation is: find somewhere else to live – now.
You correctly point out that the landlord's mortgage difficulties must have started before your tenancy agreement began. You may wish to speak to your landlord to see if he can offer any explanation. However, since your landlord has already deceived you, you may decide to take anything he tells you with a pinch of salt. You could try to speak to the mortgage company but they will almost certainly refuse to reveal anything about the mortgage for data protection reasons.
The only way for you to find out what is really going on is to attend the court hearing. Although technically you have no right to be present at the hearing, judges will almost always allow a tenant in your position to attend. At the hearing you will find out how much your landlord owes and you may find out whether he even has a buy-to-let mortgage, (many landlords do not). You will also find out what order the judge makes. He could grant the lender possession of the property in as little as 28 days – the judge is not allowed to take your tenancy into account when making his order.
Sadly there is very little protection for tenants in your position. The situation would be different if your tenancy pre-dated the mortgage or if the lender had given their consent for you to be in the property. Of course the landlord should have informed you that he was in arrears with his mortgage. In legal terms the only recourse you really have is to bring a claim against the landlord for damages.
As far as paying the rent is concerned there seems little point to do so unless you hope to stay in the property. The landlord has already breached the tenancy agreement and you may soon be homeless. If you wish to stay in the property and think that the landlord has reached an agreement with his lender you could continue to pay rent. However, once a possession order has been granted, the lender could enforce it by bringing in the bailiffs without giving you any further warning at all.
You might also like...
I have a commercial mortgage with a former partner who I have a non communicative relationship. He has defaulted on the mortgage and I am jointly liable for this. The property is in negative equity. It will be repossessed this week. Should I go bankcrupt now as I have no means of payment.
Help
- 11-Feb-16 @ 3:11 PM